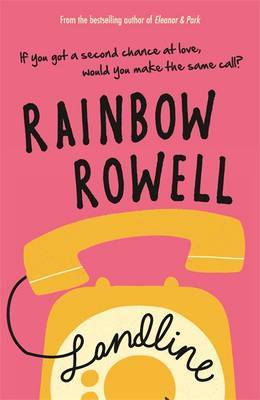 I picked
this one
up at an airport. I am mentioning this just to sound cool- like I am one of those people who pick up books at airports. No discounts. It was Rs 399 to me and at amazon, I am pretty sure it would have costed Rs 250 or less. Anyway, why am I discussing this? Let's come to the book-
About the cover
I got myself the pretty pink cover version and reading it sort of sent me to my happy place just by the vivacity of the colours and everything. The design was beautiful and it had the right amount of happiness to make me want to pick it up.
About the author
The author Rainbow Rowell (What a name!) I hear writes for young adults. Well, it shows in her writing which is very energetic and fresh. After reading Joshua Ferris' To Rise Again At A Decent Hour, I was looking for a writer with a similar sense of humour and I think she is one.
About the book
The book had won the Best Book in the Fiction category in 2014 and it was one of the reasons I had my eyes set on it. The books held true to its promise and took me to the bittersweet world of Georgie McCool, Neal (Neal, Neal, Neal) and various others. The book is gripping and the magic phone is a great way to keep the readers guessing what's going to happen. But the strong point of the book is not the plot. The plot is predictable. It almost felt too sugary at a point. The strong point is the humour in everyday situations.
The author has successfully induced many smiles throughout the course of the book with the help of witty dialogues using everyday ironies and situations.
The plot consists of a TV show writer Georgie and her marriage with an ex-cartoonist-now-fulltime-father Neal. Georgie has a best friend and Neal has a perfect ex. Both are making things work. Things aren't perfect and people are are even more imperfect.
The story is about those imperfections. Georgie goes to stay with her mother and sister when Neal goes away and the humour between Georgie and Heather (her sister) is the highlight of the novel.
Read it for the laughs.
The end is slightly disappointing only because there were so many epic endings possible. Magical realism is so full of possibilities that any ending seems like a compromise.
4 stars ****