So, I got this email from Sujatha Lalgudi asking for a review on her e-books. I was delighted as soon as I opened these books on my Kindle. I was taken back to my childhood and was reminded how foundational books like these are to one's growing up years.
Title- White Peacock- A story about friendship and acceptance.
Publisher- Armo Infomedia Pvt Ltd www.hippidoo.com
Author- Sujatha Lalgudi
Illustration- Roshan
Genre- Children's fiction.
Format- Ebook
White Peacock- a story about friendship and acceptance is designed specially for children who are different or unique. It drives home the points about accepting uniqueness and embracing yourself through a heart warming story of albino varieties in different animals. Sujatha handles the issue with the sensitivity of a child psychologist and I think the book should reach as many children with special needs as possible. The artwork is delightful and complements the text nicely.
Any children's book needs to have sufficient quotient of humour to keep them hooked and this one succeeds in that area too. The humour is mellow and entertaining and is made of the exact kind of stuff that moulds personalities. Having myself grown up on fables and stories, I understand their role in personality building and this one is a book that could easily end up in a child's most cherished treasured items.
One can almost see the child giggling on names like Pilly-Squakaroo-Durificious or Portoporous-Hagloop-Quillus. The language is stimulating and simple, introducing new words in a way that the child can make out their meanings through contextual reference.
The dialogues are animated with words laden with interesting adjectives; which makes the book apt for classroom out-loud reading either by the teacher or student. The book also can be used as a play to educate the class and the characters need only to dress up in white. It addresses the issue of class-bullies and presents the topic very delicately and can be used in many ways.
Title- Vic's Snake Avatars- Adventure in the Great Barrier Reef
Publisher- Armo Infomedia Pvt Ltd www.hippidoo.com
Author- Sujatha Lalgudi
Genre- Children's fiction.
Format- Ebook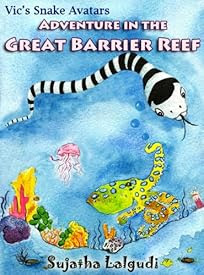 The other book by the author is an educative one and deals with the ocean world in a fun way for a child to understand and enjoy. The central character is Vic- a harmless green grass snake who is bored of playing dead before the eagle. A rainbow boa fairy snake comes in and Vic's life goes for a total overhaul. The book does contain elements like magic and snakes eating other organisms which might not be apt for kids in playgroup but, it provides for healthy entertainment and learning for kids in fourth to fifth standard and above when their
critical thinking has reached an optimum stage.
It also introduces them to subjects like geography in a friendly manner, (it does feature a World map too highlighting the regions in the book), thus creating a healthy curious environment. The artwork especially the ocean and its creatures is catchy and delightful. A few of the drawings are more realistic than they should be, in my view. I think cartoons connect better to kids than sketches but that's debatable. Creatures like sea snake (Vic's avatar), jelly fish, sea horse, sea turtles, Blue-ringed Octopus (Oxy), Tiger shark etc create curiousity in the young mind. I think this book just might lay foundation for a budding marine biologist or ocean conservationist; professionals we hightly need now more than ever.
Unlike the previous book, this one cannot be converted into a skit as here the story is not about a morale but more about an individual learning experience. This book can serve well as a home assignment and then kids can be asked to raise questions based on the story. An assignment to draw up an oceanic landscape based on Vic's experience can also serve as a fruitful exercise.
About the author
Sujatha Lalgudi holds a Masters Degree in Computers. After working for several years in the Hi-Tech Industry of Silicon Valley, she moved back to India. She is currently residing in Bangalore, India. She has been writing and painting since her childhood and retains a keen interest in software as well.
Both her children, daughter aged 10 and son aged 6 love reading. All her books pass through their test first.
She has written more than 200 e-books for children. You can purchase her books here- Amazon profile
I think print editions of both the books should also be made available due to a broader impact that hard copies can produce. I think the author has done a great job with the books and I'd rate them with four stars in their genre.
**** (4 out of 5)